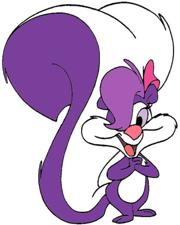 Fifi La Fume
is a cartoon character from the Warner Bros. animated television series,
Tiny Toon Adventures
. She is one of the most frequently recurring characters on the show. Fifi is voiced by
Daniella Monet (season 4-5)  Kath Soucie (season 1-3)  kelli berglund (specials and movies)
she loves fashion,  farting,movies,   she hates five nights at freddy's game scary game (the ghost)
Ad blocker interference detected!
Wikia is a free-to-use site that makes money from advertising. We have a modified experience for viewers using ad blockers

Wikia is not accessible if you've made further modifications. Remove the custom ad blocker rule(s) and the page will load as expected.